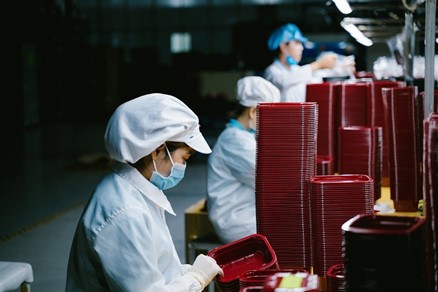 In response to the highly contagious Delta variant and with COVID-19 cases increasing once again, President Joe Biden has announced a vaccine mandate for businesses. Biden has recruited the Department of Labor's Occupational Safety and Health Administration (OSHA) to specify the rules.
What is Biden's COVID vaccine mandate?
On September 9th, Biden announced that companies with 100 employees or more must mandate COVID-19 vaccines or implement weekly testing. Biden's proposed Executive Order, entitled "Path Out of the Pandemic", includes vaccinating the unvaccinated across the U.S.
Under this mandate, private sector employees must be fully vaccinated or produce a negative COVID test at least once a week in order to be allowed to enter the workplace. Employers must provide paid time off work for employees to both receive and recover from the vaccine. Any company who violates the order could be fined up to $14,000 per violation.
Who will be impacted by this COVID vaccine mandate?
Biden's proposed COVID-19 vaccine mandate includes all private sector employers with a workforce of 100 or more, most healthcare facilities, federal government employees, contractors who work with the federal government and most schools.
The Center for Medicare and Medical Services has decided to develop their own COVID-19 action plan, in light of this proposed order, that will require a vaccine mandate for all healthcare workers with no option for testing instead. Their plan will impact nearly 17 million healthcare workers as it will apply to all Medicare staff, as well as clinical and non-clinical staff at Medicaid participating hospitals. These employers will also provide paid time off work to acquire the vaccine and recover from the shot.
OSHA will issue an ETS to implement the COVID vaccine mandate
OSHA is expected to issue an Emergency Temporary Standard (ETS) in order to implement Biden's order. This COVID-19 action plan will impact an estimated 100 million workers across the U.S.
The ETS process has already been used during the COVID-19 pandemic to establish healthcare workplace rules to prevent spread of the virus. This instance, from last June, took five months for OSHA to formulate after an executive order from President Biden. Unions threatened lawsuits to challenge the order. This new order, mandating vaccinations, will stay in effect while any legal challenges transpire. To date, 24 States have threatened legal action against the order unless Biden changes his proposed course of action.
What can employers do to comply with the COVID vaccine mandate?
Now is the time to ensure your employees are all fully vaccinated against COVID-19. Midland Health can facilitate on-site vaccination clinics across the country to suit the needs of your school or workplace.  Midland Health bills your insurance company or the government directly. Call to book your free COVID-19 vaccination clinic.
Midland Health can also provide on-site COVID-19 testing. After providing COVID-19 testing for your company, Midland Health will have your CLIA Certified Lab results within 24 hours. A 10-minute COVID-19 testing option is also available.
Don't forget the flu vaccine! Midland Health can facilitate on-site flu vaccination clinics for your business. While the coronavirus pandemic continues, it is more important than ever to keep your employees protected against the flu. Learn more about Midland Health's flu clinic and get your free quote on our website.
Whether or not this proposed COVID-19 vaccine mandate remains in effect, it is in your company's best interest to ensure all of your employees are protected against COVID-19 and the flu. Getting vaccinated remains your best defense against both COVID-19 and the flu.