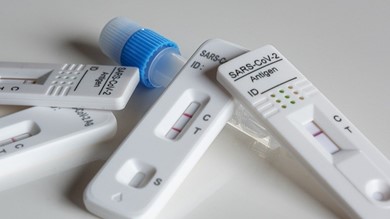 In January, the Biden Administration launched a new federal resource for Americans to get coronavirus test kits for free by mail. Sounds like a great initiative, right?
While testing is an important tool to help mitigate the spread of COVID-19, how and where you test for the virus matters. These free rapid tests might seem like a good idea at first but, upon further review, there are several disadvantages with ordering these test kits.
The Downside of Free COVID-19 Rapid Test Kits
These kits are ordered through the US postal service. The Government website from which you order the kits states a 7-12 day shipping turnaround time but delays of up to 4 weeks are being reported to receive these kits. Rapid testing should be just that – rapid. If you need a COVID test in order to travel or gain entry to an event, waiting more than 24 hours is of no use to you.
Rapid antigen tests produce far higher false-negative result rates than PCR tests, with some evidence suggesting false negative rates as high as 50%. Rapid antigen tests are also less effective at detecting COVID in later stages of the virus.
Some research indicates that rapid tests may be less able to detect the new Omicron variant than to other variants. That means these tests can yield more false negative results, including the early days of infection.
Only four kits can be ordered per household, so if you have more than four family members or if you need to test four family members more than once, these kits will not suffice.
Because these kits are free to all Americans, supplies are diminishing quickly and there is no word on when more kits will be made available.
Reportedly long wait times when trying to order these kits by phone have created frustration for many Americans. Website crashes have also been reported, similar to those that occurred when the Obamacare website was first launched.
The Federal Trade Commission website warns of scammers calling those who order these kits, attempting to obtain personal and credit card information. Seniors have been particularly susceptible to these scams.
These rapid test kits come with a lengthy sheet of instructions and can be difficult for some people to use, particularly senior citizens or anyone with vision impairment issues.
Get your Rapid COVID-19 Test without waiting 2-4 weeks or more
Using a CLIA Certified Lab for your COVID-19 PCR testing is a much safer, more reliable way to get your test results and get them fast. The margin for a false negative result is as low as 2% from a PCR test at a certified lab. Nursing knowledge can help ensure far more accurate testing use, interpretation and application versus using a rapid test kit on your own at home.
Midland Health provides FDA approved 10-Minute Covid-19 rapid tests by appointment at our Milwaukee Clinic. No referral is necessary. Covid-19 PCR Testing with CLIA Certified Lab results in 24hrs is also available.
If you are planning to travel for work or over any holidays, if you want to get back in the classroom, need to be tested for Intramural Sports, or are required to be tested for work/employment, Midland Health's FDA approved Covid-19 rapid test provides results in just 10 minutes and the PCR Lab test option provides results in 24 hours.
Is your health and the health of your employees not worth taking the extra precaution to get them tested accurately? Don't gamble with your COVID testing. Call Midland Health today to arrange on-site COVID testing for your company's needs. Vaccination and testing are still the most effective measures to help prevent the spread of COVID-19.