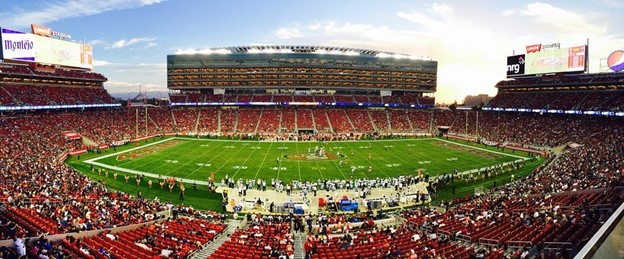 How would you feel if you were the reason the Super Bowl got cancelled? Sounds extreme, but it's not impossible.
Exposure to COVID-19: The Scenario
You work in a hotel at the front desk. You've got COVID-19 but you're asymptomatic, so you don't know that you're infected. During a typical work day, you touch just about every single thing at the front of the hotel, as do the guests when they check in. Not to mention the hands you may shake and the personal belongings of guests, such as credit cards, luggage and room keys that pass through your hands. Now imagine some of those guests are members of an NFL team.
National Sports Teams are at Risk of COVID-19
Wisconsin's own Green Bay Packers hosted the 2021 NFC Championship and they had season ticket holders, as well as frontline health care workers and first responders, in attendance for the first time this season. In total, about 6,000 fans attended the game at Lambeau Field with tickets in socially distanced groups of two, four and six tickets. The NFL is now allowing fans at games for the first time this season.
The NFL has had to cancel and reschedule dozens of football games since the start of this season. Last week alone, the NBA had to cancel five games due to coronavirus-related issues.
NBA and NFL Players Follow Strict COVID-19 Testing Protocols
The NBA has updated their strict protocols surrounding hotel stays during this basketball season. They further restricted their players this month by closing off all hotel rooms from non-team guests while on the road. The league no longer allows players or staff to leave the hotel for non-team activities. The NBA is reportedly asking all hotel staff to be tested for the virus before their team members arrive.
Sports teams like the NFL's Greenbay Packers and the NBA's Milwaukee Bucks have made serious changes to their coronavirus protocols this year, particularly surrounding COVID-19 testing. All players, coaches and essential staff have undergone daily COVID-19 testing since training camp began. Major League Baseball is expected to be no different.
Testing for COVID-19 is Key to Risk Management
The NFL's Chief Medical Officer, Dr. Allen Sills, has stressed repeatedly that testing is one of the key risk management strategies the league is using to identify, isolate and treat COVID-19 cases. Dr. Sills was recently quoted as saying "We wanted to make sure that whatever testing we set up did not in any way hinder test supply, capacity or performance for the health care system", in reference to the league using a private, national vendor.
The average person infected with the novel coronavirus will likely infect up to five other people. But there are many documented cases where one person has infected dozens of others. These people are called superspreaders and, for one or multiple reasons, can be more contagious than the average person. The CDC has warned that the new virus variant, first found in Britain and considered far more contagious than the original strain of COVID-19, could become the dominant source of infection in the United States by March.
The virus that causes COVID-19 is new and therefore the population has little to no immunity against the disease. Vaccination is the key to ending the transmission of this virus but, until the time comes when all Americans can get their COVID-19 vaccine, testing is the best defense we have against the virus.
Rapid COVID-19 Tests Protect Everyone
The NFL and the NBA are using a national vendor to perform COVID-19 testing. All hotels, vendors, caterers, etc. who come into contact with any sports players or members of the players' association must be just as diligent by being tested.
NFL and NBA members receive their test results within 24 hours and you can too. Hotels in the greater Milwaukee area are turning to Midland Health to assist with their COVID-19 testing.
The NBA protocols also state that on team flights, teams must now structure their seating charts on airplanes to replicate their seating charts for the benches during games.
New Travel Rules Include COVID-19 Testing
Starting January 26th, 2021, all passengers travelling to the U.S. from abroad have to show proof of a negative COVID-19 test before they are permitted to board their flight. Midland Health's office was open over the 2020 holiday season to accommodate the high demand for testing in compliance with these evolving travel rules. If you need a COVID test within 72 hours of travel, we can help.
Midland Heath can Protect your Business with a Variety of COVID-19 Testing Services
Midland Health's Corporate Wellness Services for COVID-19 include 10-Minute Covid-19 Rapid Testing and CLIA Certified Lab with Results in 24 Hours. We also provide Covid-19 testing for individuals by appointment at our offices or on-site locally. Avoid the wait and call (262) 754-3130 for pricing and to schedule an appointment.
One in 860 Americans have now died from COVID-19 as the nation has now surpassed the grim milestone of 400,000 deaths. As the U.S. races to get everyone vaccinated, frequent testing, together with the recommended daily protocols, is the key to keeping the virus under control in the interim.