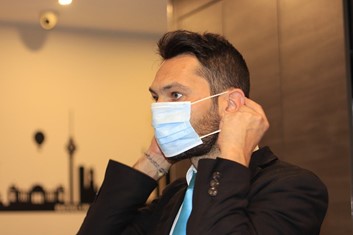 Last week, the United States hit a record number of 94,000 new COVID-19 cases within a 24-hour period. With new case numbers consistently on the rise, the need to be careful around others continues to rise as well.
Increasing research is teaching us that the virus is not only spread through coughing and sneezing. The shape of one's body, height, and certain behaviors such as loud talking or heavy breathing all play a role in the spread of this disease.
Since the start of the pandemic back in March, you have been inundated with ways in which you can help to protect yourself and those you love from the coronavirus. Yet many Americans continue to ignore guidelines put in place by medical experts. Your employees need to be reminded of these tips to help keep COVID-19 out of your workplace.
Remind employees about Covid-19 prevention guidelines, including:
Strongly encourage your employees to wear a mask. While this tip seems obvious, far too many people continue not to wear face coverings in public, indoor spaces. Masks must fully cover both the mouth and nose as they protect you from respiratory droplets. Increasing studies have shown that when everyone in a public space wears a mask, the virus loses the ability to spread from person to person. At Midland Health's head office in Wisconsin, employees are encouraged to wear their masks while entering and exiting their private office spaces.
Remind your employees about the importance of washing your hands and using sanitizer when soap and water are not available. Hand washing remains the most efficient way to remove germs and chemicals from your hands.
All of your employees need to practice social distancing. A minimum of 6 feet of space between employees, including when outdoors, is recommended for optimum protection against the trajectory of respirator droplets from others. Some lighter droplets can linger in the air and travel further than 6 feet. This is why masks are important too.
Post reminders throughout the office about the importance of not touching your face. This is a very hard habit to break, as experts suggest you touch your face, on average, up to 20 times in one hour. Posting reminders throughout common areas can help keep this important tip in mind.
Employees must stay home when they are not feeling well. This should be a standard practice in the workplace anyway but remind your employees that this is more important now than ever before. Temperature screenings in the workplace are a great way to enhance this practice before entering the building. Temperature screenings can safeguard against both COVID-19 and the flu.
Don't leave your house unless it's absolutely necessary. While you may have to come into work, limit your interactions with people outside of the home and workplace to help prevent the spread of the coronavirus. Encourage working from home for all employees, when possible.
If you do have to go into work, the following are additional tips for helping to protect your employees against COVID-19 at the office:
Understand exactly how the virus spreads. There is an abundance of misinformation about COVID-19 out there. Teach your employees about transmission and methods of protection through Wellness initiatives, workplace newsletters, e-mail blasts, your company website, etc.
Disinfect highly touched surfaces in your workspace. While most companies use professional cleaning companies to clean office spaces, it is a good practice to frequently disinfect commonly touched surfaces such as your phone, desk, door handles, etc.
Use one-way floor traffic arrows and signage to help keep employees socially distanced.
Remove some desks where possible. This helps to keep employees safely distanced throughout the work day. If possible, install plexiglass shields in common areas where employees come face-to-face with other employees or visitors.
Create a system by which employees can book desks on-line. If any of your employees are working from home, this will help to limit the number of employees in the office at one time. This system allows you to track the number of people in the office at one time. You can also set up a rotation schedule for employees to share workspaces on different days, allowing time for a thorough cleaning between personnel.
Install hand sanitizer stations throughout the building. Ensure all soap dispensers remain full throughout the day.
Remind employees about the standard guidelines, as listed in the first half of this article. Create a new and unique workplace "handshake" that doesn't compromise safety. Encourage on-line meetings and host any events outdoors when possible.
Install HEPA filters and UV lighting in the building's HVAC system. While neither of these are considered a first line of defense against the virus, both have been proven helpful in reducing the spread. Artificial UV-C light, a short wave spectrum of UV light, breaks up genetic material in airborne pathogens so that they cannot reproduce. Many hospitals use UV-C in their HVAC systems.
Keep exterior doors locked throughout the day. It is important to keep unknown persons out of your workplace and monitor all visitors. This includes deliveries. Best practices dictate you should now receive all deliveries in an exterior space.
Create a health questionnaire for employees to fill out as they enter the office each day. This can be collected by staff as they perform routine temperature screenings every morning.
Together, you and your employees can keep COVID-19 out of your workplace. Remind your employees about these tips to protect their physical health and to provide peace of mind, supporting the mental health of your employees as well.