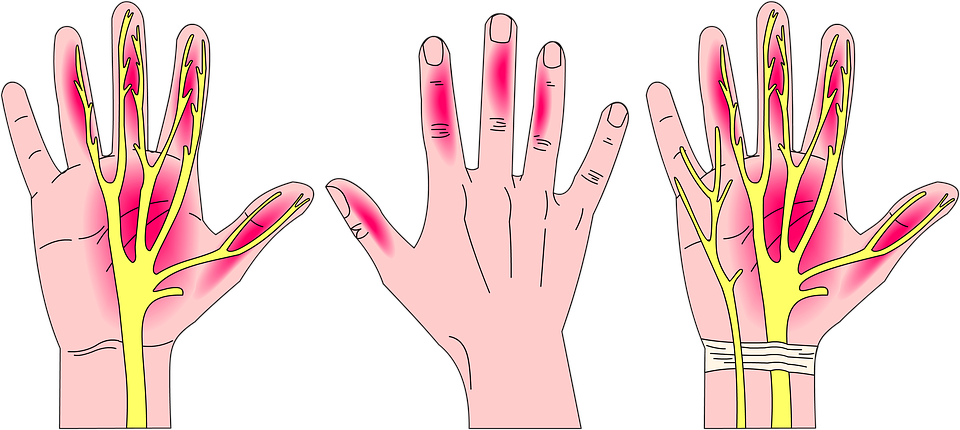 Did you know that carpal tunnel syndrome is the leading workplace injury? Repetitive strain from excessive keyboard use is the culprit, but new research is suggesting that texting or excessive video gaming is also linked to carpal tunnel syndrome. CTS is caused when you repetitively bend and extend your wrist, putting excessive pressure on the median nerve. This nerve-related disorder is three times more likely in women than men, and obesity is also linked to a higher risk category. The syndrome itself can be temporary, but is often the result of repetitive stress that gradually worsens over time.
Carpal tunnel syndrome is the compression of the median nerve as it passes into the hand. The median nerve gives you sensation in your thumb, index finger, middle finger and part of the ring finger. The wrist's carpal tunnel is like the narrow point of an hourglass, through which the nerves to the hand pass. The carpal bones form three sides of the tunnel, with the carpal ligament completing the structure. The carpal ligament has a hold on the nine tendons and the median nerve which runs through it.
The human wrist was not designed to spend long hours flexing the hand up and down. Recent studies have shown that some of the leading health conditions linked to CTS include diabetes, thyroid conditions, high blood pressure, arthritis and prior fractures to the wrist or hand. Some occupations are at higher risk for the syndrome, including office workers, mechanics who have prolonged exposure to vibrating hand tools, factory workers on conveyor belt systems and gardeners. Studies have not proven that CTS is caused specifically by typing, however, it is important to be cognizant of the positioning of your wrist while you are at your keyboard. Typing, playing the piano and some sports, for example, can cause tendinitis in the hand, which can narrow the carpal tunnel and lead to symptoms of CTS. Many of these activities outpace the ability of the joints and ligaments to produce enough fluid lubricant. When tendons are overworked, they become inflamed and swollen, subsequently compressing the median nerve. The resulting traffic jam from too many structures through too little space causes intense pain, numbness or tingling in the fingers.
The tingling and pain are often worse at night, since many people sleep with their wrists inadvertently curled which makes symptoms worse. If you have trouble combing your hair or are losing dexterity and keep dropping things, you should see your doctor.
This condition should always be diagnosed by your doctor but there are things you can do to reduce your risk of this repetitive strain injury:
Maintain good posture: Drop your arms to your sides, then raise them and bend your elbows to 90 degrees – this is the optimal working position. Keep your wrists as straight as possible, in line with your forearms, while on your computer. The neck and shoulder area is where the median nerve originates, so don't slouch!
Trim your fingernails: Excessively long nails, most especially long, artificial nails, cause unnatural finger positions, forcing your wrist to do more work.  
Avoid repetition: Try to alternate between tasks rather than sit down to type a long document or practice the piano for hours on end. Get up, stretch, take a short walk if you can, and then come back to your work. This is much better for your mental health as well.
Drink plenty of water: Electrolytes are needed by the body to produce the power to contract muscles and transmit nerve impulses. Maintaining the appropriate fluid levels allows the "current" to flow as it should. Drinking water is good for your overall health as well.
Eat a well-balanced diet: Eating healthily is always beneficial to your overall physical and mental health. In the prevention of CTS, eating bananas is recommended due to their high levels of potassium, magnesium and vitamin B6. The B6 vitamin has been proven to help preserve the integrity of the synovia, which is the thick and slippery sheath that surrounds the bones and tendons of the wrist.
Treat the pain: If you experience sore wrists or tingling fingers, use ice packs to relieve pain. Cold constricts the blood vessels and slows down the transmission of the nerve messages to the brain. Hydrotherapy can also be effective for CTS symptoms. Soak your hands and wrists in hot water at night, moving your fingers to increase circulation. Finish this off with a splash of cold water.
Relaxation exercise: For progressive relaxation, clench your fist as tightly as possible for ten seconds, then release immediately and completely, as if you had turned off a switch. Your wrist should feel looser than before you tensed. Repeat with your other hand. This is also beneficial for the shoulders. Exercise is not recommended in advanced cases of CTS as it can be counterproductive. Again, see your doctor for a diagnosis.