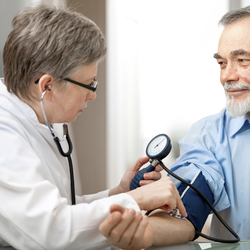 Flu shots are important to your health, and the health of your family and community; it's important to make sure that everyone eligible and able to get a flu shot does.
Children under the age of 5 are especially susceptible to the flu virus, and often need care because of the flu. This is why the best way to protect them from the flu is to make sure they are vaccinated every year. Children as young as 6 months old can get vaccinated.
But children aren't the only people who are especially susceptible to the flu virus. Adults over the age of 65 are also at higher risk because their immune defenses become weaker as they get older. Because of this, people ages 65 and older are able to receive a higher dose vaccine to protect them from severe illness.
If you're between the ages of 5 and 65, don't think you're immune! Even though you are likely less susceptible to illness than young children or older adults, you can still catch the flu. Make sure you get your shot early, before flu season starts.
Are you looking for more information on flu shots? Check out our website!