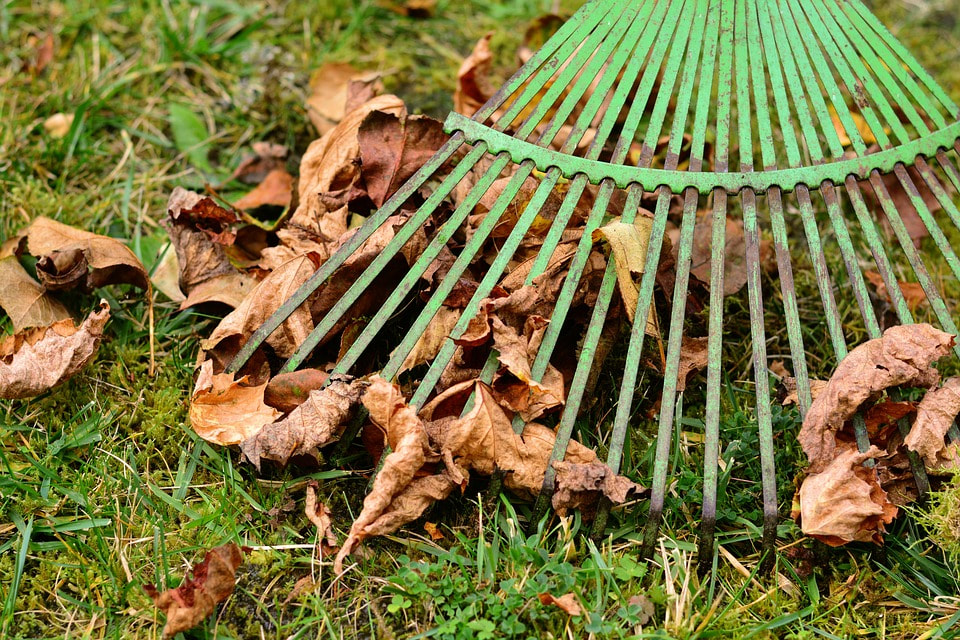 Now that the weather has really taken a turn towards fall, with increasingly cooler temperatures and shorter daylight hours, this is the time to tidy up outside your home to ensure you are prepared for the hibernation season that winter brings. Following these ten tips will not only help to alleviate the stress of worrying about your home throughout winter, enabling you to enjoy the holiday season and to better preparing you for Spring, but will keep your body moving while you work, as you head towards a more sedentary season ahead. Complete these housekeeping tasks and burn calories while you clean, no gym required!
Tend to your garden: You have likely already raked up leaves a time or two. By now, the trees are just about void of leaves which makes it the perfect time to rake one last time, adding leaves to your compost pile or bagging them up for waste disposal. With morning frost on the horizon, it's also time to wrap your shrubs, small trees and delicate plants with burlap, bringing any small plants inside (after you ensure you're not bringing any small critters along with it!). Ensure the entire length of your garden hose is void of any water before storing it away for winter. If you have a sprinkler system, be sure to drain it as well. Any water left inside will freeze, even if your hose is kept in a garage. An empty hose will last longer. And don't forget to double check that all exterior faucets are turned off. Scrub any empty plant pots, clean bird feeders and fill them up, pull up any weeds before the ground freezes and give your lawn one last watering if rain has been scarce. Remember to also trim back any soft-stemmed perennials. By putting your garden to bed for the winter, you are saving yourself work come springtime and can take comfort in knowing that you are well prepared when it arrives.

Calories Burned: Raking leaves can burn approximately 400 calories an hour, gardening can burn up to 280 calories and heavy yard work burns up to 600 calories an hour!

Put away your patio furniture: Thoroughly clean your chairs, table, umbrella and any ornamental pieces before storing them away for winter. Bring cushions and any wicker furniture inside so that it will not ruin in bad weather.

Calories Burned: Cleaning furniture can burn approximately 180 calories an hour and moderate weight lifting burns 270 calories an hour!

Freshen up your paint: Check the paint along all hand rails, decks, fencing, trim and any other areas where flaking paint could allow water in and cause significant cracking over winter. Brush off any flaking paint and touch up these areas with some fresh paint, with enough time for it to dry before the first snow falls.

Calories Burned: Painting can burn up to 320 calories an hour!

Clean your gutters: Ensure your gutters and downspouts are fully clear of all leaves and other debris before winter. As snow and ice melts, it must have a clear path for drainage, otherwise gutters become too heavy and can crack and fall off, causing expensive damage to your home.

Calories Burned: Cleaning out your gutters can burn up to 350 calories an hour! And an added bonus to gutter cleaning is all that reaching and stretching makes it a wonderful, full-body workout. Just mild stretching alone burns up to 180 calories!

Wash the windows: For the windows you cannot reach, power washing is a great way to clean up the exterior glass. For those you can reach, use a heavy duty sponge and some good old fashioned elbow grease to get them clean! Take out all the screens to give them a good wash, and vacuum out the window casings, before finishing this project. When the first snow falls, before it becomes a nuisance, you will be thankful for the sparkling view!

Calories Burned: Cleaning your exterior windows, including screens and sills, can burn anywhere from 250-350 calories an hour!

Check walkways and driveways: Take a close look at your driveway and all walkways leading up to your home. Take care of any required repairs before the damaged asphalt or concrete freezes and then becomes a bigger hazard. Check around your home's foundation for cracks also, as these could allow critters and/or water inside the home during winter months.

Calories burned: Repair work like this can burn anywhere from 180-300 calories an hour!

Prepare for winter: Check all caulking on your doors and windows to make sure you are optimizing your energy efficiency. If you feel a draft anywhere, install weather stripping or re-caulk before that winter wind comes whipping around your home. And stock up on all winter supplies. Ensure you have a good supply of road salt (pet-friendly if required) for your driveway and walkways, firewood if you have a fireplace, fuel for your snow-blower and winter safety items for your car (i.e. shovel, reflective cones, blanket, first aid supplies). Also make sure that your snow shovels, scrapers, brushes, etc. are all in good condition before you need to use them!

​Calories burned: While it could be hard to measure these tasks individually, shopping for the supplies alone can burn anywhere from 100 calories an hour, plus lifting! Please note that all calorie-burning estimates are for an average 155 pound adult and are approximations only. Individual differences may vary. As with any physical activity, stretching before you start is always best for your body. Wear comfortable, non-restrictive clothing and remember to drink plenty of water as you work.
Calorie count approximations taken from Healthline, Valdosta State University research and WebMD