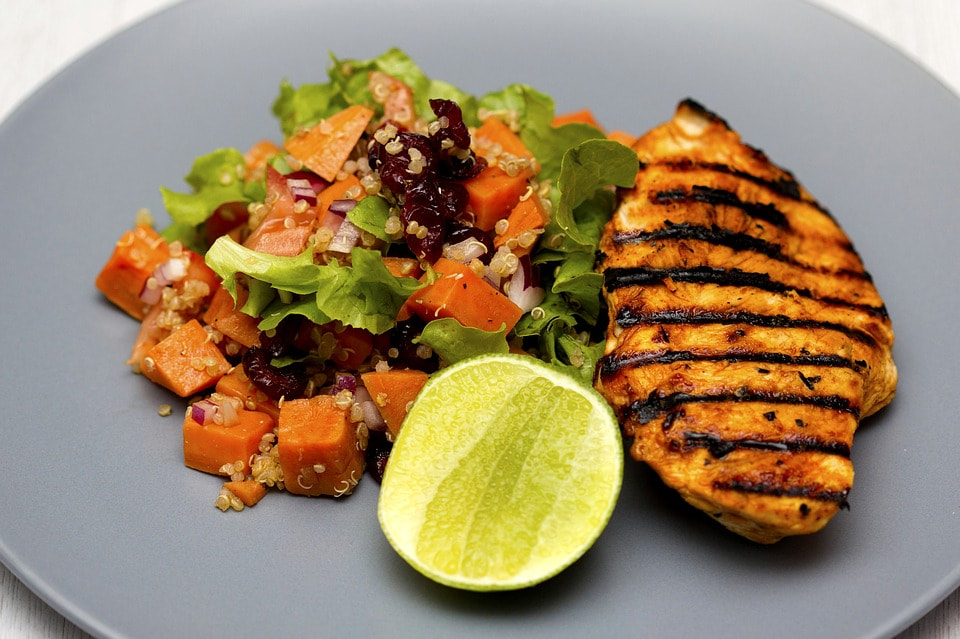 By now, you have likely heard of the Ketogenic Diet that was all over the wellness scene last year. Thanks to endorsements from celebrities such as Kourtney Kardashian, Gwyneth Paltrow and Halle Berry, the Keto Diet was all over social media throughout 2018 and continues to be one of the most popular researched diet plans.
Whether you are looking to lose weight, promote your digestive health or reduce your risk of chronic disease, the Keto Diet boasts properties to help you with all three. However, like any eating plan, there are pros and cons with this lifestyle. If you are thinking of trying to "go Keto", or considering a diet inspired by the Keto Diet, be sure to research both its benefits and risks before making the switch to this high-fat, low-carb way of eating.
What is the Keto Diet?
The ketogenic diet is named for the metabolic state through which this way of eating puts your body into ketosis, which is what occurs when your metabolism uses fat as its primary energy source, over glucose. Ketone bodies, essentially water soluble molecules (acetoacetate, betahydroxybutyrate and acetone) are a natural energy source, produced in the liver, when fat is broken down and used as energy, for cells in the body and in the brain.
Achieving this biological process is not easy. Your body naturally uses glucose sourced from carbohydrates for energy, but in ketosis you alter your metabolism to instead take energy from burning sources of fat. When your diet is low in carbohydrates, the blood levels of glucose are low, which then prompts the body to use the glycogen housed in the liver for energy. When those sources are depleted, the liver converts fat into fatty acids, producing ketone bodies for energy. These ketone bodies then replace glucose as the main energy source. This elevated level of ketones in the blood system is what creates ketosis.
Reducing your intake of carbohydrates in your diet lowers insulin production and increases the release of fat from adipose tissue, ceasing production of new fat and subsequently decreases fat storage in the body. This is why the Keto Diet is considered a guaranteed way to lose weight.
In order to achieve ketosis, the Keto Diet calls for 75% of calories from fat, 20% of calories from protein and only 5% of calories from carbohydrates. Studies have shown that ketosis can help to suppress appetite.
Benefits of the Keto Diet
The most commonly admired benefit of the Keto Diet is its efficacy for weight loss. While it is more difficult to follow and maintain than many other diet plans, the Keto Diet promises some degree of weight loss, typically within the first few weeks. Ketosis can impact appetite hormones, helping you to feel full. Research is showing that people who follow the Keto Diet are losing significant weight within the first 3-6 months but studies on the long-term impact are lacking. Like any diet, the challenge is in keeping that weight off, whether you stay on the Keto plan or not. Willpower is key.
In addition to a smaller waistline, the Keto Diet boasts several other health claims, including improved gut health, decreased mood disorders and migraines, and it offers some benefits in combatting chronic health conditions such as neurological disorders, diabetes, brain injuries, Alzheimer's disease, and some forms of cancer.
While we have typically considered a diet high in fat to be detrimental to heart health, some research suggests that following a keto-style of eating (low carb, higher fats) can improve high density lipoprotein (HDL, or "good" cholesterol), help to reduce low density lipoprotein (LDL, or "bad" cholesterol, responsible for building up fatty deposits) and improve triglyceride markers with more healthy blood sugar levels. However, there are more balanced ways of eating that have shown the same healthy results, such as the Mediterranean Diet or a plant-based diet.
Risks from the Keto Diet
Changing the metabolic structure within your body does not happen without risks. "Keto flu", which is what happens to most people when they start to change their eating habits, includes side effects such as nausea, dizziness, irritability, fatigue and inability to exercise for extended periods.  Typically, you will pass these feelings after a few days. Although carbohydrates play an important role in muscle growth from exercise, as they promote muscle recovery and reduce muscle breakdown, and so if you are keen to workout, a moderate carb diet may be a better choice for you.
Because ketosis affects the balance of water and minerals in your system, supplements are often necessary to compensate for their losses. For this reason, the Keto Diet is not supportive of overall bone health.
While some research suggests the Keto Diet can be good for heart health, there is research suggesting the opposite as well. Because this diet is lacking whole grains and fiber, constipation is a common side effect, as is bad breath due to an increased production of acetone. With regards to its weight loss claims, the majority of studies on low-carb diet plans show that after 12 months, continued weight loss is very minimal.
The only certain truth is that more research is needed on this newly popular eating plan. The biggest challenge is keeping your body in the state of ketosis. It can be very easy to slip out of ketosis, even with minimal cheating on the diet plan, and this is a hard eating pattern to sustain for a long period of time.
Advocates for ecofriendly eating are not in favor of the Keto Diet, simply because of its abundant allowance for meat and dairy. According to these advocates, the diet's meat requirements have a negative impact on the environment as the livestock industry generates the same amount of greenhouse gases as global transport combined.
Common Mistakes 
The Keto Diet can become unhealthy quite quickly with a few common mistakes. Focusing on the low-carb element of food, over whether or not that food choice is actually healthy, is among the most common mistake. For example, you may be quick to eat processed foods that brag low-carb on the packaging but these foods are typically higher in sugar and salt. Consuming whole foods will help to eliminate unhealthy choices and will actually keep you feeling better satiated. Focusing on the carbohydrate content of some plant-based foods, such as apples and some starchy vegetables, is another mistake as these are actually good food choices for any diet, including Keto.
Another common error is to tell yourself that any and all meats are allowed. Many studies have proven that a diet high in non-organic, grain-fed, and/or processed meats has been linked to cancers, heart disease and other illnesses. If you are going to enjoy a rich supply of meat during your Keto Diet, ensure these are organic cuts of meat, that the meat is grass-fed and be careful to limit your meat intake overall. You need to be careful of your intake of dairy for the same reasons, especially since dairy is considered a culprit of inflammation. Check out one of the many milk and/or cheese alternatives that are dairy free. Eating fish is also a great alternative to eating red meat, for healthier eating.
Alternatives
There are several emerging diets that claim to be inspired by the Keto Diet, including the Ketotarian Diet, created by Will Cole, D.C., functional medicine practitioner, boasting properties to help you "boost your energy, crush your cravings and calm inflammation". This plan, which is a diet similar to the Keto Diet, keeps the entire meal plan plant-based, with pescatarian options. It is a much better choice for vegetarians and vegans. One thing to note is that you can have more carbohydrates while on the Ketotarian Diet, as long as those carbs come from vegetables.
There are some supplements available that can help the body to attain ketosis and keep it there, and there are others that raise blood ketone levels, helping to control appetite and suppress cravings. These supplements use butyric acid, a fatty acid that helps the body to manage sugar, which claims to assist with mental clarity and to protect cells from oxidative damage.
Ultimately, only you can decide what method of eating is best for your health, with the educated input from your family doctor. Women who are pregnant or are breast-feeding, those who are elderly, those with chronic health conditions and young children should all only follow a restricted eating plan under the direct supervision of their doctor.