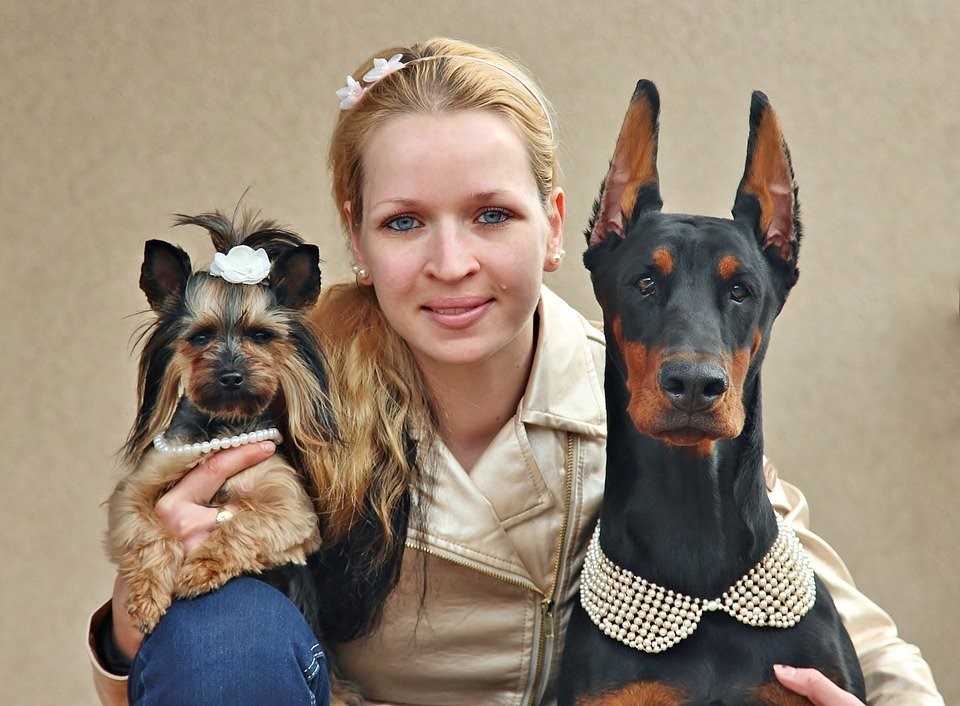 When Amazon introduced Take Your Dog to Work Day in 1998, one of the first dogs to visit was Rufus, a Welsh Corgi.
His husband-and-wife owners made him part of their work team. They would use Rufus' paw to click the computer mouse.
Employees loved it. The dogs had fun, too.
What started as an experiment proved so successful that the world's largest online retailer has proclaimed every day as Take Your Dog to Work Day. On June 21 this year, more than 7,000 dogs were registered to come to the company's Seattle headquarters.
"Having dogs in our workplace is an amazing treat," says Lara Hirschfield, Amazon's "Woof Pack" manager. "They make employees smile."
Other companies noticed the fun times at Amazon as well as the research that showed dogs in the workplace improved employee morale. Today, Petco, Bissel and Walmart are among companies that allow dogs at work.
Other companies across North America celebrate Take Your Dog to Work Day in June, on the first Friday after Father's Day. It was proclaimed an official holiday 20 years ago as a way to celebrate canine companionship.
Today, it's part of many companies' corporate wellness platforms.
Key research findings
Health-based research shows dogs in the workplace lowers work-based anxiety and blood pressure and increases cardiovascular activity. That lowers cortisol levels which increase feelings of happiness.
Happy employees are productive employees.
A study by the Human Animal Bond Research Institute showed that 9 out of 10 employees who worked for a pet-friendly workplace remain engaged in their work and supported their company's mission.
The majority of employees surveyed also reported a more positive working relationship with their bosses and fellow employees.
Dogs in the workplace increased productivity and attendance.
Benefits galore at work
Allowing dogs at work has many benefits for companies, their employees and the pets.
Eight out of ten employees surveyed for the Human Animal Bond group rarely miss a day of work because they bring their dogs with them.
Science proves that spending time with dogs decreases stress levels for most people.
Being with your dog at work forces you to take breaks. This helps to clear the mind and recharge you for the workday.
It eases interactions with coworkers and breaks the ice with new employees.
Celebrating this day will help to attract and keep employees because it's a fun perk.
Employees are more focused on work and not worried about their dogs at home.
Dogs don't have to be alone at home. And they get much-needed exercise when their owners can take them outside several times a day.
Take the day a step further and organize a department or company-wide visit to a local shelter. Use it as a great team-building exercise. Giving back will strengthen your company's social responsibility.
Be sure to include everyone
Not all employees will have a dog, and some may feel like they're missing out. Be sure to include everyone through related trivia, games or a scavenger hunt. You can have prizes that appeal to all employees.
If you do visit a shelter, create a fundraiser for the shelter and raise morale by helping animals in need.
Things to remember
Before you welcome dogs in your company, keep these important points in mind:
Make sure no employees are allergic to dogs.
Ask coworkers whether anyone is afraid of dogs.
Inspect your workplace for dangers to dogs. Look for things like exposed wires that they might chew on, or open doors and windows that would let them escape.
Remember to provide water. Remind owners to bring food, a blanket or dog bed and quiet toys for the workday.
Designate an outside area where dogs can do their business. Consider providing poop bags.
Midland Health recognizes all approaches to positive employee health. Visit our website where you can ask for a free quote for a corporate wellness program.