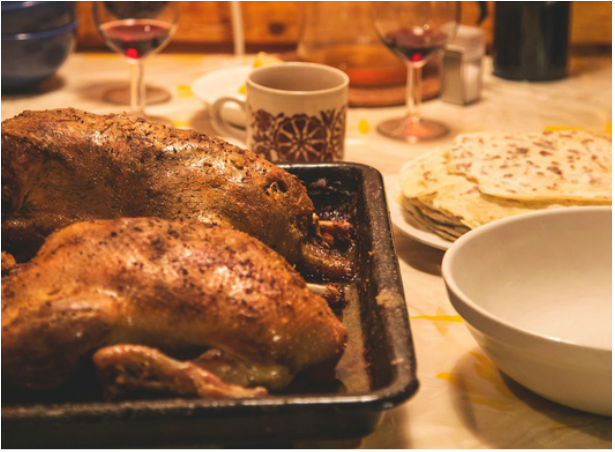 Have a healthy holiday season!
There is no easier time to toss your health aside than over the holidays. Between over-eating, squeezing in quick meals between hectic schedules of shopping and visiting family, feeling anxious about seeing family members that perhaps you don't see often (especially if by choice!) and not leaving time for exercise, our well-being sometimes suffers greatly at the expense of the holidays, especially our waistlines!
But the holidays do not have to interrupt a healthy lifestyle. By creating a plan well before the holiday hits, you can resist those extra temptations at the dinner table and keep your health on track with a few simple tips:
We all know that we need to eat less and move more. The holidays are no exception. By creating a calorie deficit, in other words, by burning off the excess calories before you consume them, you will feel less guilty over the holidays when you undoubtedly indulge a little more than you should at the dinner table!
7 Tips for Guiltless Holidays
Be sure to eat breakfast on days when you are having large meals. Try to include fiber and protein which will help curb your appetite. It sounds simple but not only will this leave you a little less hungry come dinner time, it will also jump start your metabolism and prepare your body to burn off those excess calories. 
Limit your alcohol consumption. Not only is alcohol full of calories and sugar but it also causes the body to crave more salt. 
Be wise when cooking. Try to use healthier choices wherever possible (i.e. substituting fat-free/low sodium chicken broth to baste turkey and make gravy, limiting salt, using as little butter and oil as possible, mash potatoes with plain yogurt or fat-free sour cream). 
Make healthy choices at meal times. Avoid filling up on appetizers, load up on vegetables, leaving less room on your plate for those dense carbs, and eat small portions. If possible, use a slightly smaller plate. 
Savor your food by chewing slowly and pausing briefly between mouthfuls. This will make you conscious of what you are eating and you will actually enjoy your meal even more. 
Skip a second helping, leaving more room for a small dessert and also leaving you with left-overs for tomorrow! 
Avoid emotional eating. Many people feel sad over the holidays – they are not a joyous time for everyone. Sadness, anxiety and anger are the three most common culprits of emotional eating. Try to remain conscious of eating only because you are hungry, not because you are trying to suppress your emotions. 
While all of this may sound like hard work, remember, most of all, that the holidays are a time for celebration. Strive for a mindset of health maintenance, rather than trying to stick to a diet or other restrictions, and you will feel thankful for your own achievement.