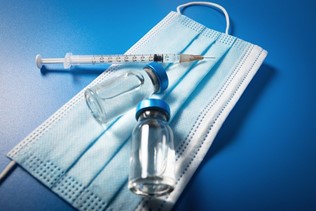 Last week, the FDA amended the emergency use authorization for the Pfizer COVID-19 vaccine to allow for a booster shot.
Clinical trials have shown that Pfizer's COVID-19 booster vaccine provides an increased immune response to help improve protection against the coronavirus, including the highly contagious Delta variant.
Why do you need a COVID booster shot?
New research suggests that over time, protection from the 2-part COVID-19 vaccine can decrease and may be less able to protect against the Delta variant. According to the CDC, recent data has shown that while vaccination is the best protection against severe infection for those over the age of 65, vaccination is less effective at preventing infection or milder, symptomatic illness. New evidence also suggests that vaccine effectiveness is decreasing over time for those who work in high-risk areas, such as frontline workers and healthcare employees.
95 percent of the global population has the ability to travel to another location within 48 hours, which is the same period of time for the incubation of COVID-19. This is how variants of concern continue to emerge across the globe, sometimes starting in small, remote communities and quickly becoming a worldwide problem. The Delta variant is reported to be nearly 100 times more contagious than the original strain of the novel coronavirus.
Who qualifies for the COVID booster shot?
Initially, the FDA updated its vaccine authorization to include a third "booster" shot for certain immunocompromised people. This has since been updated, and continues to evolve. According to the CDC, COVID vaccine booster shots are currently available for anyone in the following categories, who received their second shot six months ago or more:
65 years or older
18 years or older with an underlying medical condition
18 years or older living in a high-risk setting
18 years or older working in a high-risk setting. This list is growing but currently includes:

Frontline workers
Education staff, including daycare employees
Food and agriculture workers
Manufacturing workers
Corrections workers
S. Postal Service workers
Public transit workers
Grocery store employees
How can you get the COVID booster shot?
More groups of people are expected to be added to the recommended list for a booster shot in the foreseeable future. Midland Health will setup and administer your Onsite Covid-19 Vaccine Clinic for as few as 20 and up to as many as 2,000 personnel and at no cost to you. Midland Health bills your insurance or the government directly. Midland Health's nurses will administer Pfizer vaccines to people 12 years or older at your School, School District Offices, or Workplace. If your business falls into one of the approved categories for the vaccine booster, call us today.
If you have received two doses of the COVID-19 vaccine, you are still considered fully vaccinated, regardless of whether or not you have had a booster shot.