Midland Health Provides Flexible Reporting Options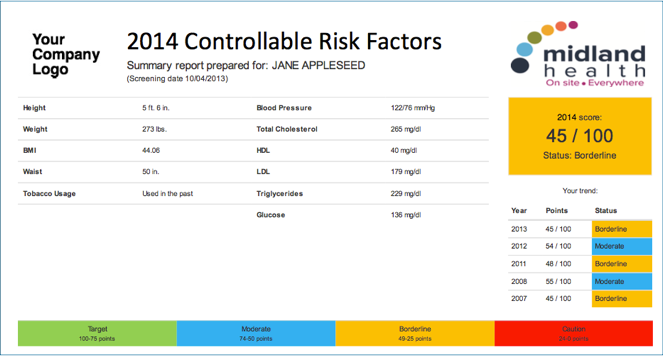 Learn Your Levels
Put your data into context through detailed employee reports and multiple aggregate reports for management displayed from multiple vantage points. This can also be used for incentive tracking or outcomes-based programs.
Raw Data Report
Your employee receives raw data and management receives raw aggregate data.​​
Data Transfer/Upload
​Midland Health can transfer data that was collected during the screening to a vendor/HRA/TPA of your choice
---
Features of Learn Your Levels
Learn Your Levels (LYL) offers an alternative perspective to HRA reporting data. HRA reports factor the biometric data and self-answered health questions. LYL provide reporting on blood and biometric data alone for a controlled report. Since LYL is generated from the screening data, no additional step is needed from employees to generate individual or aggregate reports.
Learn Your Levels is an easy-to-understand report. The report contains motivating information to help support healthier, happier lifestyles. Scores are based on smoking habits, weight in proportion to height (BMI or Body Fat), systolic BP, diastolic BP, total cholesterol, HDL, LDL, triglycerides and glucose.  The data is then summarized and placed into easy-to-read, color coded charts to help you better understand your health.  This report can also be used for outcome-based programs or as an incentive management-tracking tool.  The points system can be used as it is or customized to fit your criteria.
Features of Group, Aggregate Reports
Multiple aggregate reports are included to provide a better understanding of the corporate wellness of your company population. Aggregate reports offer:
Online access 24/7 to the dashboard of aggregate reports.
Views of the population from multiple vantage points: comparative, trends, singular and multiple risk factors, demographic, etc.
A clear display of aggregate results per each biometric factor.
Actionable information highlighting the percentage and number of users in each risk category, as well as trends over time.
Features of Learn Your Levels Private Individual Reports
​Displays the risk category associated with each biometric value.
Displays points awarded for each biometric value.
Easy-to-understand reference range for each biometric factor's risk category.​ 
Remote Employee/Alternative Screening Options
---
Physician Biometric Form
Midland can provide a form for employees to take to their physician to be completed after their preventative exam.  Midland will then upload the completed form to the aggregate group data for reporting.  The form may be used for new hires, employees who had recently been to or are going to their PCP. ​
Lab Kit/Lab Clinic Appointments
Midland can send a lab kit or set up a screening appointment at one of our certified national Labs or a clinic is your area.